Have you tried every anti-fungal product in the drugstore yet still have toenail fungus? No matter how faithfully you use over-the-counter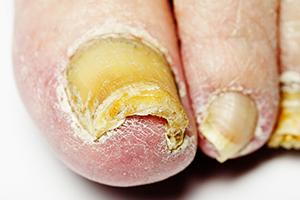 products, your toenails may still be thick and yellow. Laser therapy offers an effective way to eliminate the fungus and improve the appearance of your toenails. Our Ridgefield, CT, podiatrist, Dr. Allan Rosenthal of Advanced Foot Care Center, explains how laser treatment works.
The problem with over-the-counter anti-fungals
Painting a topical medication on your toenails can be helpful if you have a mild case of toenail fungus. Unfortunately, if you have a moderate to severe fungal infection, the product may not be effective no matter how long you use it. Unfortunately, topical medications reach the very top layers of your nails, but can't reach the fungus that lurks under the nail.
Laser therapy offers a better treatment option. The light from the laser can easily penetrate the layers of your nails to reach the source of your infection. Laser therapy targets the pigment that gives toenail fungus its yellow color. Exposure to laser light heats the fungus and destroys the pigment, eliminating your infection. Because the laser only targets the fungus, healthy tissue surrounding the infected area isn't damaged.
You won't notice an immediate change in your toenail after your laser treatment. It will take a few months for the yellowed section of your toenail to grow out and a totally clear nail to emerge.
Effective, not painful
Although laser light is strong enough to kill your fungal infection, the treatment isn't particularly painful. Short bursts of laser light are the key to preventing pain caused by the warming effect of the laser. Although the laser light is strong enough to heat the pigment in the fungus, the short bursts prevent heat from building up in your tissues. During your treatment, your toe may tingle, and you'll probably feel a little warmth. After your treatment at our Ridgefield office, you'll be able to immediately return to work or your usual activities.
Get rid of toenail fungus for good with laser therapy. Call our Ridgefield, CT, podiatrist, Dr. Rosenthal of Advanced Foot Care Center, at (203) 431-0048 to schedule an appointment.