Your Ridgefield, CT podiatrist, Dr. Allan Rosenthal, takes special interest in aging feet. Yes, our feet do change over the years, but with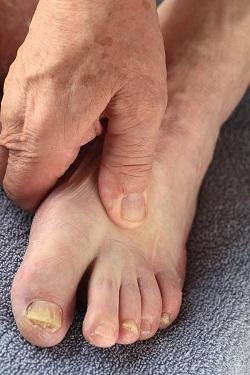 routine podiatric exams, in-office care as needed and regular attention to our ankles and feet at home, we all can keep walking and enjoying happy lives. Read here about how to care for your feet as you age.
Sobering Thoughts
Our lower extremities literally carry us through life. The US National Center for Health Statistics says that neglected foot care leads to immobility in a vast number of elderly people, and unfortunately, immobility impacts overall health and well-being.
So it's vital for all of us to pay attention to our feet and ankles on a daily basis, looking for typical foot conditions that the senior population experiences:
Deformities such as hammertoes and bunions
Decreased thickness of the natural padding on the soles of the feet
Arthritis
Brittle nails
Dry skin
Corns and calluses
Decreased circulation related to peripheral artery disease and diabetes
Heel pain (plantar fasciititis and heel bone spurs)
Ankle instability related to sprains and fractures
What your Ridgefield podiatrist advises
Dr. Rosenthal asks his patients to practice good foot care at home, including:
Washing and drying your feet daily
Wearing clean socks and well-fitting, supportive shoes
Trimming the toenails straight across with a clean clippers (to avoid ingrown nails)
Applying moisturizer such as lanolin to the feet, toes and ankles
Not self-treating ingrown nails, corns, warts or calluses (come to Advanced Foot Care Center)
Wearing quality shoes with ample room in the toes and good arch support
Limiting heel height to 2 inches or less
Observing and reporting any changes in skin color, texture and temperature or in the shape or color of toenails
Exercising every day (simple walking or swimming is great)
Elevating your feet above heart level when they feel tired
Not sitting with your legs crossed as this impedes circulation
Not going out of doors barefoot
Wearing flip flops or shower sandals poolside or in the gym locker room to avoid injuries, athlete's foot fungus and the virus which causes plantar warts
Come see us
Whatever your health status, a regular podiatric exam is key to keeping your lower extremities strong for years to come. To arrange your routine check-up with your Ridgefield podiatrist, call Advanced Foot Care Center at (203) 431-0048.